Dried Flowers - Textural and Timeless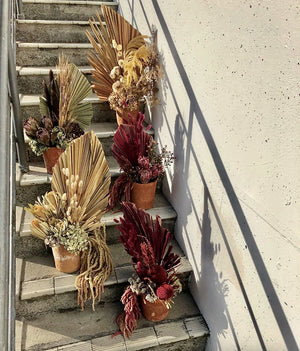 There is something very special about dried flowers. Although they may seem to be a more unconventional choice, they are well on trend and a great choice for an arrangement at an event or to decorate your home interior. All flowers have the ability to evoke different emotions, and just like a delightful dahlia may brighten a gloomy day, or classic red roses might spark feelings of passion or love, dried flowers have an air of timelessness and mystery. Once living and fresh, now suspended in time, this leads to a very interesting visual effect. Dried flowers are popping up more and more as a sustainable and long-lasting option.
Dried flowers are earthy and textural, and once dried often lose some of their colour, but are never dull. They take on a muted tone, which makes for almost monochrome type arrangements that are minimalist and fashionable. 
They are delicate yet strong, and depending on how they are arranged, can make a modern sculptural statement or add a vintage romantic feel to an area. Adding fresh flowers or other foliage to the dried flowers also makes for an interesting arrangement. For example, toetoe is a dramatic addition. 

Dried flowers are a stunning choice that allow you to enjoy the arrangement for longer, making them a cost-effective and stylish option. While they are definitely less maintenance than fresh flowers, if you are keeping a dried flower arrangement, it will still require some care. These are best kept indoors and out of sunny areas, and also do better in dry environments so try to avoid humidity. Try not to get your dried flowers wet - they are dried after all! To prevent the petals from falling, try spraying hairspray on them. If you're keeping the arrangement long term, they do have a tendency to collect dust - a feather duster should do the trick to gently remove any dust that collects.


The Botanist specialises in dried flower arrangements and we would love to help find something suitable for your space, occasion or event! Our florists will be able to provide their floral design expertise to come up with something special. Visit one of our flower shops in Auckland or browse our website! You can order online and we offer flower delivery in Auckland.