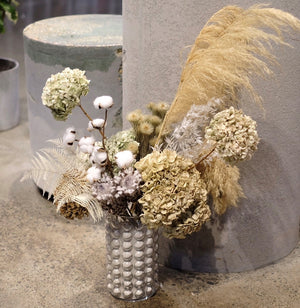 The Botanist has been a long-time fan of finding unique ways to present flowers so that a beautiful arrangement can be enjoyed beyond a usually short shelf-life. There are several ways to preserve flowers - a common one being by drying, however flowers preserved via treatments can retain their colour and fresh look. These are increasing in popularity and are a very special, meaningful floral arrangement.
Preserved flowers, also known as eternal flowers, are completely natural cut flowers/foliage that have been preserved to keep them looking fresh for a long time. Having undergone a safe treatment and preservation process, the beauty, and vitality of the fresh cut flowers is captured and preserved. Through the preservation process, the original colour of the flowers can be retained or the flowers can be dyed bleached to achieve the desired colour. Preserved flowers can last between several months to years, depending how they are cared for.
An arrangement made up of preserved flowers is a unique and low-maintenance option for something to decorate the home, or to give a special, lasting gift. At The Botanist, we love to create stylish arrangements using a mixture of both dried and preserved flowers. While dried flowers bring a monochrome rustic and textural look to the arrangement, the addition of a couple of preserved flowers or foliage can enhance the texture of the bouquet or even add a pop of colour. The contrast of the dried and preserved flowers makes for an alluring and unique arrangement.
Preserved flowers are a gorgeous choice for those looking for something extra special and long lasting. While they are low-maintenance, you do need to remember a few things:
Although they look like fresh flowers, they are not and do not need water. Coming into contact with water may damage them.

Keep them out of any humidity and sun.

They are still fragile like fresh flowers, so be careful when handling them.

Since they will be lasting a long time, it is inevitable they will gather some dust. When this happens, dust them lightly, or blow off the dust using a hair dryer from afar on cool and low speed.
Check out The Botanist's range of preserved and dried floral arrangements here, get in touch, or visit one of our Auckland stores to talk to our florists.
You can
order online
and we offer flower delivery in Auckland.