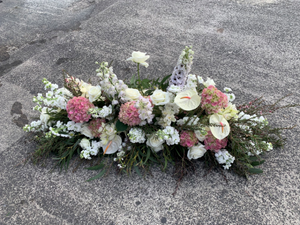 Floristry is all about capturing emotions, spirit, and personality in beautiful and meaningful ways. But when it comes to the task of choosing flowers in difficult circumstances, such as flowers to celebrate a life, to provide comfort, or to express sympathy, it can be challenging. Here at The Botanist, we want to help and make sure that we can produce designs for you that capture exactly what you want to convey, so we hope this article can provide some guidance in what to do during a difficult time.
We have found that choosing sympathy flowers is definitely not one size fits all. It all depends on what you want to convey and the purpose of the flowers, which can then be captured in the style of flowers you choose. When starting to choose a floral arrangement to send or for a funeral, first give this some thought. The Botanist also offers wreaths which represent eternal life, and can be a nice alternative to a bouquet.
Sending flowers to offer condolences is a kind gesture that can offer comfort and support to those who are grieving. It is a good way to send a message that you are thinking of the person they have lost, and thinking of them. You may also choose to send some flowers some time after the event - a beautiful gesture that is a good reminder to the grieving that you are still thinking of them in the following weeks, and that they have your support. If you are choosing arrangements for a funeral, think about what you want to convey, and how your choice might contribute to the tone of the event. It is also important to consider cultural customs. Check before sending flowers that it is appropriate to do so in that person or their family's culture.
Depending on what you wish to convey, there are different colour palettes and styles that are possible. You could opt for a traditional arrangement, which is typically white and green in colour and utilises a mix of flowers and foliage. On the other hand, modern arrangements vary a lot and could be anything you want. Rustic arrangements are a nice choice that can convey a sense of calm, especially when using a toned down colour palette and foliage. They could also be a good choice if you are looking for a more masculine style. Earthy tones are a popular choice for rustic style floral arrangements. You could also opt for something simple and bright and cheerful in order to bring a joyous sense of celebration, or to brighten up someone's day during difficult times. Simply choosing something you know the deceased would have liked and fits their personality can also be a beautiful way to honour them.
The Botanist also provides services such as casket spray arrangements, flower stands, or any other requests. Just send an email to info@botanist.co.nz and a florist will be able to assist.
We hope that The Botanist can provide some help during times when sympathy flowers are needed, and produce something meaningful and expressive. Our florists will be able to provide their floral design expertise to come up with something special. Visit one of our flower shops in Auckland or browse our website. You can order online and we offer flower delivery in Auckland.