Our Same Day Auckland Flower Delivery Services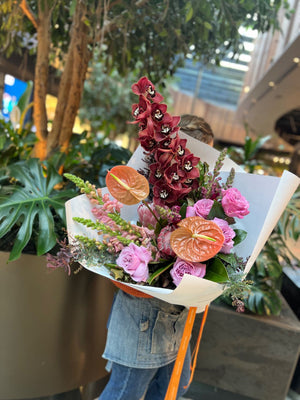 Flowers have a special way of saying what words sometimes stumble over. That's why we're all about those fresh, vibrant blooms that can light up anyone's day.
Beyond Blooms: The Magic We Create
We're not just slinging flowers; we're crafting memories. Our partnership with a trusted floral delivery courier company isn't just about dropping off flowers; it's about curating moments of sheer joy, adding heartwarming touches to every bouquet we send out.
Teaming Up with Floral Delivery Pros
Here at The Botanist, we are here to provide a smooth delivery service to you. We are working with specialised floral delivery courier companies to make sure when your flowers leave the shop, they have been handled with care, and arrive at the recipient's door step safely.
Convenient Pickup Game: Morning and Afternoon
We're all about that flower freshness – it's like our secret superpower.
From Monday to Friday, we provide two convenient pickup slots – one in the morning and another one in the afternoon. Morning pickups will get your blooms delivered just after lunchtime, ensuring a delightful surprise when the day is at its peak. On the other hand, afternoon pickups guarantee that your carefully chosen bouquet arrives in the late afternoon, adding a touch of elegance to the day's end.

Saturdays are on the fun train too! With a Saturday morning pickup, your floral gifts keep the weekend vibes alive.
Ready for Your Floral Adventure?
Want to dive into a garden of delights? Swing by our collection right here. Let's sprinkle some flower magic into your life's special moments!